Posts Tagged "catholic prep school"
January 10, 2022
At Lake Catholic High School, we know that a student's love of learning starts in the classroom. While in school, students are inspired by their instructors and their peers, engaging with the material and growing academically and as individuals.
Lake Catholic provides students with an academic environment that will help them thrive. Our small class sizes make all the difference, allowing for the implementation of a student-centered approach to learning. With a student-teacher ratio of 15:1 and an average class size of 19 students, we ensure that the needs of each and every student are met by instructors. Small class sizes also allow students to have the guidance and support needed to explore their individual interests, allowing them to build skills in the subjects they're passionate about.
Read on to discover the value of small class sizes at our private high school.
Small Class Sizes Make Student-Centered Learning Possible
When it comes to academic success at our Catholic prep school, a student-centered approach to education means that teachers act as facilitators of learning. Instead of a one-size-fits-all approach, teachers at Lake Catholic ensure that each individual student has access to the resources, attention, and support they need to pursue their own interests. They take the time to understand their students' individual learning styles, cultivating a learning strategy that works best for them.
Through small class sizes, teachers are able to devote more of their time to each student, providing more personalized attention and the ability to assess the strengths and opportunities of each student, tailoring their coursework and instruction accordingly. With smaller class sizes, Teachers can also exercise a student-centered approach within their classroom, challenging your child at a level that's right for them while accommodating their unique learning needs and goals.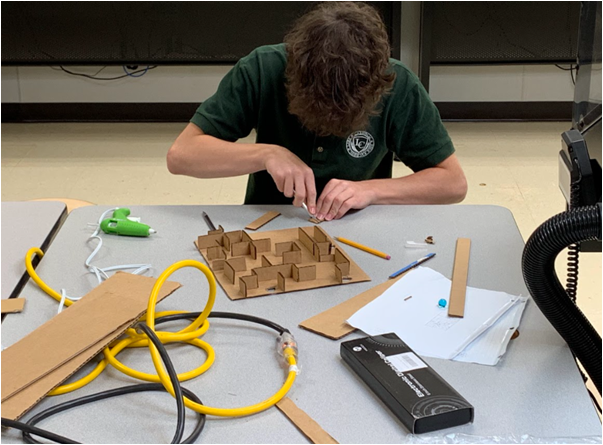 Less Disruption and More Instruction
At Lake Catholic, your child will be able to spend more time learning and building new skills. Students can receive the maximum amount of instruction and attention from their teachers, enhancing their academic growth and preparing them for college-level courses.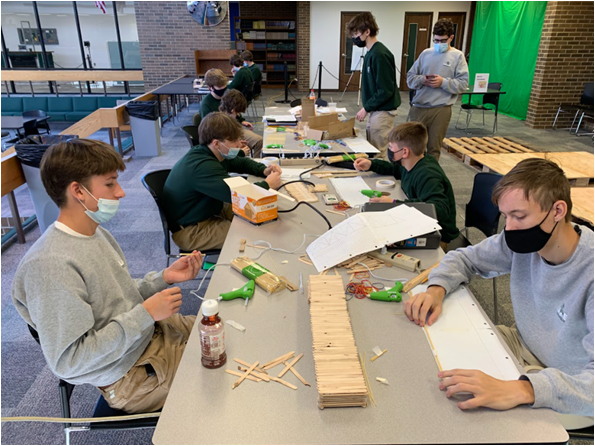 Meaningful Connections with Instructors and Peers
At our private high school, an average class size of 19 students ensures that everyone benefits from a welcoming and inclusive learning environment.
At Lake Catholic, each member of our diverse student body is part of our community, and smaller class sizes help to cultivate this supportive setting. Our students have the opportunities to form relationships and connections with their classmates. These relationships go a long way in contributing to their personal growth, confidence and mental and emotional well-being. What's more, connecting with their peers ensures that students will have someone to collaborate with on assignments, helping them to keep their course load manageable.
Are you looking for a Catholic high school in Cleveland for your child?
Contact Lake Catholic High School to learn more.
Posts Tagged "catholic prep school"
January 05, 2022
All parents want to ensure that the high school they send their child to will prepare them for life after graduation. A smooth transition from high school to college depends on the quality of the education and the level of academic support a student receives prior to taking the leap.
At Lake Catholic High School, helping students achieve college success is a fundamental goal. Lake Catholic provides a welcoming community-centered environment within which students can grow to think critically, collaborate and develop their own unique creative processes.
What's more, high-level academics ensure that students receive the best possible preparation for college, with college credit plus courses, AP courses, honors courses and personalized guidance for each student along the way.
Read on to learn how our preparatory school enables your child to successfully transition to life after high school.
Lake Catholic High School Offers A Variety of Courses for College Credit
College Credit Plus (CCP) is a dual enrollment program created by the state of Ohio, in which colleges and high schools partner together to offer college-level courses to high school students. The credits for these courses are guaranteed to be transferable to any publicly funded institution of higher education in Ohio.
Not only is participation in the program free, but by earning college credit, families and students can also save on college tuition.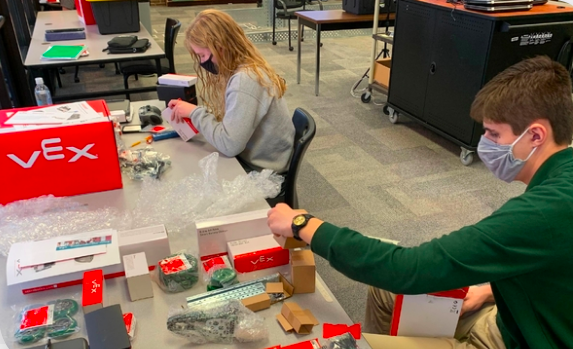 At Lake Catholic, we partner with both Lakeland Community College and Lake Erie College offering five classes on campus and many more on the LCC and LECs campuses. CCP courses provide high school students with a preview of the types of responsibilities they can expect in college. Additionally, students are prepared for college by gaining a head start in building the important skills they'll need for future success.
AP and Honors Courses Provide Additional Preparation
In addition to offering college credit courses, our private high school also offers a number of Advanced Placement (AP) and Honors courses, both of which are beneficial in preparing students for the academic rigor they can expect to experience at a college level.
Taking any of the 10 AP courses on offer gives students an opportunity to test their skills with an examination at the end of the year. A score of 3 or higher on the AP exam can lead to opportunities to earn college credit in equivalent subjects.
While Honors courses don't directly translate into college credit, they are still a great way for your child to be challenged throughout their high school career, helping them to build critical thinking, collaboration and other skills that will enhance their performance at a college level. To help in that transformation process, we offer a total of 24 Honors Classes across all grade levels.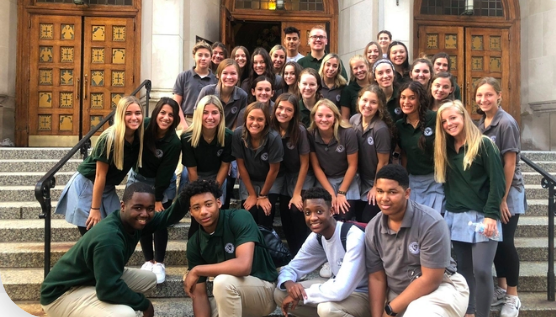 Our College Guidance Department Supports Your Child in Their Journey
While high-level academics are an important component of your child's path to successfully transitioning into a college environment, the support they receive along the way is essential to their individual growth.
The College Guidance department at our catholic prep school as well as our partnership with LEAF are committed to helping your child prepare for their future. You and your child will have the opportunity to meet with faculty from the Guidance department and LEAF throughout the year, receiving information about college application processes, career opportunities, and test preparation. With the high level of personalized support offered by the College Guidance department, your child is sure to find a college that will ensure they excel, both academically and socially.
Are you looking for the right college credit high school for your child?
Contact Lake Catholic High School to learn more.