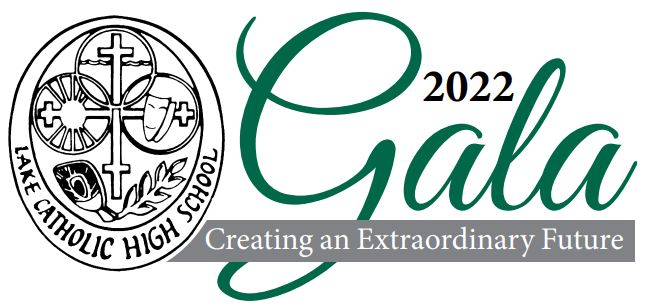 It's time to get back in person for the 38th Annual Lake Catholic Gala! This year's event will be held on Saturday, March 26th at LaMalfa. Plan on joining us for an evening of entertainment, fabulous food and drink, auction items, a wine pull, games and opportunities to support the amazing young men and women at Lake Catholic who continue to excel academically, spiritually, athletically and through extra-curriculars. Your support of Lake Catholic's largest fundraising event of the year will help us create an extraordinary future for our leaders of tomorrow.
Ticket information will be available soon. Mark your calendars and share an evening of elegance, excitement and enjoyment to benefit Lake Catholic High School on March 26th. We can't wait to see you there!
How can you help support the Gala today? By donating to our Wine Pull! It is simple to donate a bottle of wine (valued at a minimum of $20) by stopping by World Wines and Liquors – 8760 Mentor Ave., Mentor, OH. The staff will help you select a special bottle from a prepared list; just tell them is it for the Lake Catholic Gala! You pay for the wine and they will hold it for Lake Catholic for delivery (we will receive record of your donation from World Wines). Our goal is to receive 100 bottles for the event. World Wines is open: M-TH 10am – 8pm; F-SAT 10am – 9pm; SUN 12-4pm and we are grateful for their support! Donated bottles of wine will be available at the Gala for a $20 donation. The fun part is that you never know what bottle you will receive!
For sponsorship levels and information, please click here
Donations are welcome and appreciated! If you would like to donate a basket, service, gift certificate or unique item to the 2022 Gala, you can access a donation form here. Thank you for your consideration and support.