Three Cousins, Two Teams, One Goal
November 08, 2023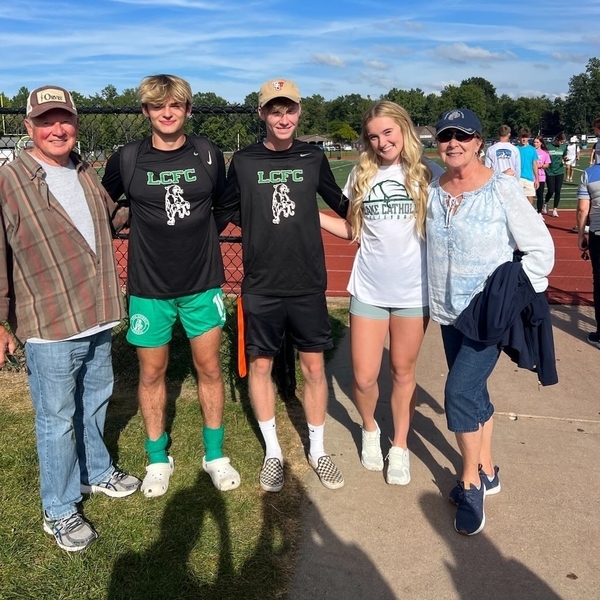 Kate, Joe, and Nick Powaski have grown up in a tight-knit family. The three cousins were always together playing games, competing against each other and other family members in different sports. To this day, they are always supporting one another.
But now, in possibly the biggest week of their final year of high school, they won't be able to be there for each other.
Kate, an outside hitter on the volleyball team, will be heading to Dayton with a chance to defend the Division III State Championship she and her teammates won a year ago. Meanwhile, Nick and Joe will be playing in a Division II state semifinal tonight with the boys soccer team with the hopes of playing for the school's first state soccer championship.
And if they both win their semifinal games, the schedule gets even trickier.
Currently, the Division III volleyball state championship game is scheduled for Saturday at 11a in Dayton, and the Division II boys soccer state championship match is scheduled for Saturday at 1p in Columbus.
"I wish I could go see them, just be there to support Kate and the entire team. They've been to a few of our games this year," said Nick, who starts on defense as the center back. "But we're all working toward our goals. It would be absolutely awesome if we both came home with state titles."
At the moment, Nick and Joe are focused on Richfield Revere, the No. 1 ranked team in Ohio in Division II. The Cougars are ranked No. 2. Revere is also the team that knocked Lake Catholic out of the playoffs last year. The game kicks off at 7p at Twinsburg High School.
"We have our team dinner tonight before we leave for Dayton, so I won't be able to be at their game. Although I'd love to be there," Kate said. "But we'll definitely be watching the stream." (The game can be seen on Twinsburg's athletic streaming site.)
A win tonight and the boys will be playing in the program's first state championship game.
Meanwhile, the volleyball team is heading to the state semifinals for the third year in a row and trying for its second straight state title and third in the program's history, which would tie the football program for the most in school history.
"It was exciting last year for the whole family when the volleyball team won states," Joe said. "She didn't say much to Nick and I. She didn't do any bragging."
The volleyball team plays on Thursday at 2p against St. Henry, the No. 3 team in the state in Division III. The Cougars have been the No. 1 ranked team all season. They are a perfect 27-0 and, in fact, have only lost three sets all year.
Regardless of the ultimate outcomes, both seasons will end this weekend, but Joe will still have work to do. After dipping his toe in the performing arts last year, he was cast as the lead – Ichabod Crane – in this year's fall play, The Legend of Sleepy Hollow. The play runs from Thursday, November 16-Sunday, November 19.
"I'm in the band too," Joe said. "With football still playing, we're still performing. So after school, I have band, soccer, and then finally rehearsals. I'm usually at school from 8 in the morning until 9 at night."
The play is still two weeks away though. There's still work to be done this week on the field and on the court for the Powaskis.
But by Sunday, when the Cleveland Browns play the Baltimore Ravens at 1p, all the Powaskis will be at their grandparents' (Kathy and Stan) house for that game.
"We see each other almost every Sunday during football season for the Browns games," Nick said. "We're always at our grandparents' house."
This Sunday though, there might be more celebrating Kate, Joe, and Nick than actually watching the Browns.
"I can't even imagine what it would be like if both teams win," Kate said. "It would be super crazy."

Discover Lake Catholic
Discover yourself, your faith, your future, your purpose. Become a member of the Lake Catholic Family.