The young men and women of Lake Catholic High School experience many exciting advancements in our Catholic mission and in the quality of education provided each year. We have experienced a rare and unparalleled decade of progress, including increased Advanced Placement courses, better prepared faculty, technology infused into every classroom, improved facilities, vibrant extra-curricular and campus ministry activities, increased college scholarship awards, and more opportunities provided for every student. And our decade of progress does not end here.
We must continue to surge forward, and we need your help to do so. There are many opportunities to provide Lake Catholic with the financial support it needs to make a difference in the lives of so many students that hunger for knowledge, strive to be competent leaders, and yearn to make a difference in the world.
Every student, parent, faculty/staff member, alum and friend is important to this effort. Please consider supporting Lake Catholic High School in one of the many ways available. Your gift will help us continue our progress and give students the ongoing opportunity to learn through the love of knowledge, love of people and love of God.
Please contact me if you have any questions, or if you would like to contribute to our goal of funding the mission of Lake Catholic High School.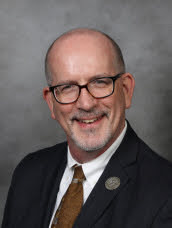 Mark Crowley
President