Christ Child Society of the Western Reserve Honors Scholarship Wnners
September 07, 2023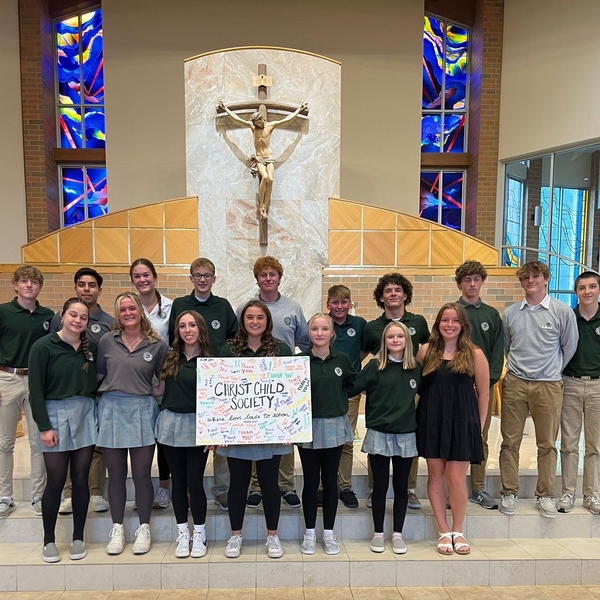 Eighteen Lake Catholic students were honored and awarded scholarships last night by the Christ Child Society of the Western Reserve.
The award ceremony was held at St. John Vianney and then Fr. Tom Johns held a mass for the students, their families and the Christ Child Society.
The chapter of the Christ Christ Child Society of the Western Reserve is an organization primarily dedicated to child welfare. Its motive and spirit shall be a love of Christ expressing itself in personal service for children and youth regardless of race or creed to honor the childhood of Christ.
The 40-year-old chapter serves "one child at a time" through many different programs, including scholarships. Scholarships are offered to students currently enrolled at Lake Catholic and Ursuline College for their current tuition.
Those receiving the scholarships for the 2023-24 school year are: Victor Arenas (Sr.), Carley Dondorfer (Sr.), Joey Lonchar (Sr.), Katie Morgan (Sr.), Alyssa Naro (Sr.), Mia Schaefer (Sr.), Katie Sowko (Sr.), Kyle Boyd (Jr.), Caden Boyes (Jr.), Carson Gilbert (Jr.), Megan Joy (Jr.), Luke Joy (Jr.), Jimmy Meden (Jr.), Angelina Capra (So.), Kaelyn Nemeth (So.), Kiera Nemeth (So.), Brayden Mann (So.) and Robert Vidmar (Fr.).
Discover Lake Catholic
Discover yourself, your faith, your future, your purpose. Become a member of the Lake Catholic Family.