Football, Basketball Standout Named Winner of Athletic Scholarship
June 15, 2023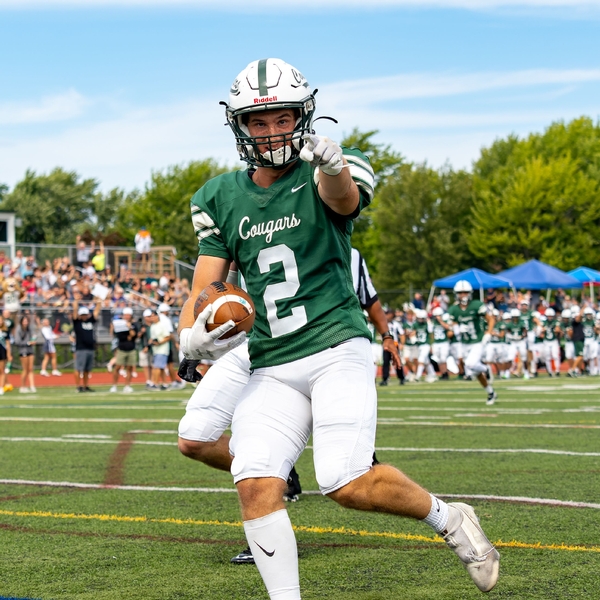 Nick Brandt, a standout on the football and boys basketball teams, was recently named a winner of an Ohio High School Athletic Association student-athlete scholarship by the OHSAA's Northeast Athletic District Board's Scholarship Committee.
The award is a $1,000 scholarship, which Brandt can now use as he moves on to Miami University.
He is the second winner to be named from Lake Catholic since the scholarship's inception in 2007. Kennedy Newhart won a scholarship in 2018.
Recipients were selected based on a point system which rewards students for grade point averages; class rank; community service; varsity letters earned; and individual and team athletic honors.
Brandt finished high school with a grade-point average higher than 4.0 and ranked in the top 5 in Class of 2023. In his time at Lake Catholic he earned eight varsity letters (three in football and basketball and two in track and field).
This past season on the football field, Brandt was a jack-of-all-trades on offense. He had 51 receptions for 489 yards and two touchdowns as a wide receiver; he carried the ball 44 times for 179 yards and three touchdowns; and even played quarterback completing 11 of 22 passes for 109 yards and one touchdown. All told he accumulated 777 yards and accounted for six touchdowns.
"Nick was a constant leader for our program - academically and on the field - throughout the duration of his four years at Lake Catholic," football coach Marty Gibbons said. "He strives to do well and we all look forward to seeing him do great things in the future."
On the basketball court, Brandt was the starting point guard and captain for the district champion Cougars. He led the team in steals and assists, with his 166 assists making him one of the top assist leaders in Northeast Ohio. He was named to both the Northeast Lakes All-District and All-Crown Conference teams.
"It is very well deserved, but not surprising to me, that Nick Brandt has won the OHSAA Scholar Athlete Scholarship because I was fortunate enough to see daily how hard he works on the court and in the classroom," said boys basketball coach Matt Vespa. "Nick consistently demonstrated that he is not intimidated by hard work or willing to back down from a challenge. I have no doubt he will continue to demonstrate these admirable skills in the next phases of his life. It was truly an honor to not only coach Nick for this season but also to see someone receive the recognition they deserve for all of the hard work they have put into being successful academically and athletically."
For winning the scholarship, Brandt will be honored along with the other scholarship winners at an awards presentation and dinner at Progressive Field prior to a Cleveland Guardians game later this summer.
photo courtesy of Full Stop Photography
Discover Lake Catholic
Discover yourself, your faith, your future, your purpose. Become a member of the Lake Catholic Family.