Grease Opening Successfully Entertaining
March 03, 2023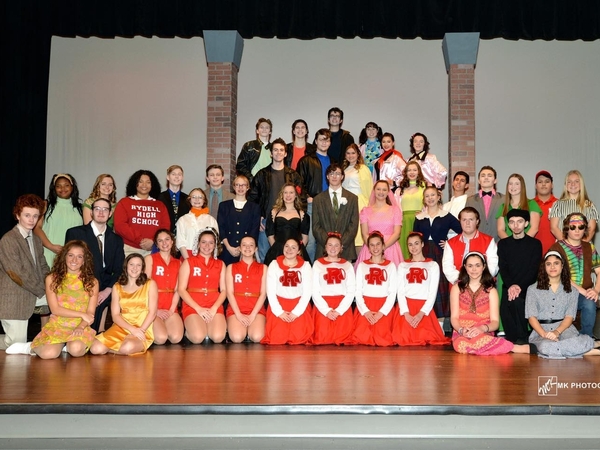 One of the main reasons to attend your high school reunions is to meet up with old friends and reminisce about the four years you all spent together.
The Performing Arts Department's performance of Grease brings those memories to life as the Pink Ladies and Burger Palace Boys remember what their lives were like in 1959 at Rydell High.
The show opened last night (Thursday, March 2) in front of a full house in the Lake Catholic auditorium and will continue to run through the weekend, with one show today (Friday), tomorrow (Saturday) and Sunday.
Although the theatrical performance does have its differences than the cinematic version, you're still transformed to those high school days and the songs you know and love.
The music, led by Orchestra Director Alex Ulle ('13), and costumes, designed by Joey Gabriel ('19), are spot on as we revisit the story of the budding romance between Sandy Dumbrowski (Makenna Bretz) and Danny Zuko (Dominic Orlando) which is put to the test by their friends - Rizzo (Annie Biats), Jan (Brianne Martin), Frenchy (Kathryn Ridler), Marty (Kira Brennan), Kenickie (Michael Skalicki), Roger (Stephen Parrish), Doody (Luke Joy) and Sonny (Peter Skalicki).
The acting and singing - including solos by Bretz, Biats and Orlando - from not only the Pink Ladies and Burger Palace Boys, but the entire cast and ensembles, elicited emotional responses from those in attendance.
Not to be outdone, the choreography, led by Haley Gagnon Luster (who also works with the LC Singers), was just as impressive. Forty-two cast members moving in unison for "Grease," "We Go Together," "Born to Hand-Jive" and many others is a sight to see.
Congratulations to the entire cast, the 18-member crew, and the Lake Catholic Performing Arts Department - Chair, and show director, Scott Posey, Jim Slike ('07) and Jennifer Bretz - on a wonderful opening night.
*****
For those who couldn't make it last night, there are still select tickets remaining tickets for tonight's (Friday's) show and very limited seats left for both Saturday and Sunday. Do not wait to get yours. You can purchase them at https://lchs.booktix.com/
For anyone attending one of the final three shows, please PRINT YOUR TICKETS before arriving. The scanners can NOT read the QR codes off of phones.
Discover Lake Catholic
Discover yourself, your faith, your future, your purpose. Become a member of the Lake Catholic Family.