Lake Catholic Helps Kick Off New Diocesan School Year
August 11, 2023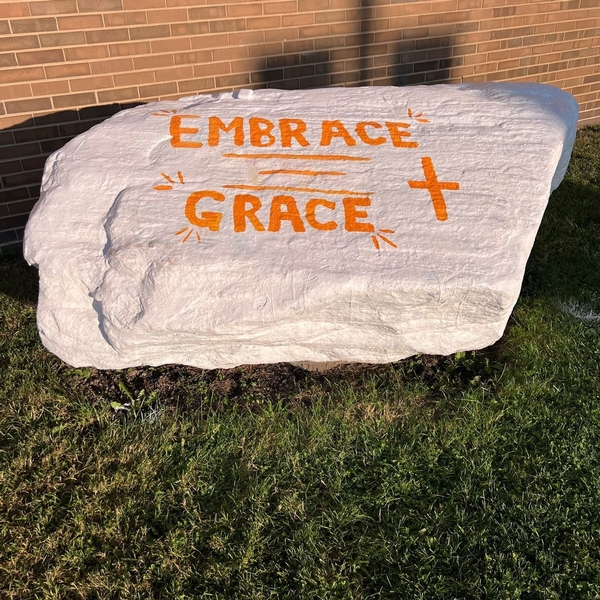 The Diocese of Cleveland marks the kickoff of each and every school year with the Bishop's Convocation.
To start the 2023-24 school year, more than 200 elementary and high school principals and school presidents, youth ministers, high school campus ministers, Newman campus ministers and parish catechetical leaders from eight different counties descended upon the Lake Catholic campus for this year's convocation.
The theme of this year's convocation was "Embrace Grace." In this parish year of the National Eucharistic Revival, the attendees were asked to embrace the grace of the Eucharist and the holy work they are entrusted to do.
Bishop Edward Malesic celebrated Mass and Sister Patricia McCormack, Program Director of the IHM Office of Formative Support for Parents and Teachers, a ministry of the Sisters, Servants of the Immaculate Heart of Mary, Immaculata, PA, was the keynote speaker.
The Lake Catholic Music Ministry, led by Mr. Jim Slike ('07), performed the Mass, while Mr. Scott Posey was the technical director. Students from Spiritual Life, along with Mr. Adam Nestor and Mrs. Alison Ellis, were also on hand all day supporting the event.
During his homily, Bishop Malesic invited everyone in attendance to be story tellers. He recited the lyrics to the song "I Love to Tell the Story," based on a poem by Katherine Hankey, and most recently recorded by country-star Alan Jackson.
After reading the song, he said to "tell the story of the presence of Jesus, who's at the heart of the Eucharist. Tell the story of how Jesus said to follow Me. Tell the story of how Jesus died on the cross. Tell the story over and over."
When mass concluded the congregation broke up for breakfast in the Media Center, Atrium and Cafeteria, before coming back to the Auditorium for the keynote address – "Evangelizing the Parking Lot Parent."
Sister Pat said she thinks "parents are more comfortable driving back and forth, rather than coming in."
She said those in attendance should meet parents where they are and serve as catalysts who bring them into an encounter with Jesus. She demonstrated how ministers can help parents adapt their own experiences to making their homes places of deep family faith and spiritual richness. Most importantly, she showed how to help parents build supportive networks to build the faith of the entire community.
After Sr. Pat's address, the group broke up for different sessions geared towards elementary school leaders, high school leaders, Newman Campus Ministers, Youth/High School Campus Ministers, and parish Catechetical leaders.
The day concluded with lunch and more camaraderie before everyone departed to start their school years, and to Embrace Grace.
Discover Lake Catholic
Discover yourself, your faith, your future, your purpose. Become a member of the Lake Catholic Family.