Peek Behind the Curtain: The Extraordinary Work Ethic Driving Our Students' Success
November 16, 2023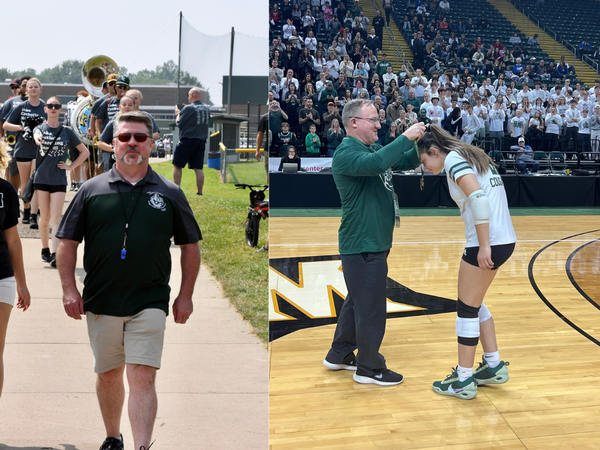 A state championship. A state Final Four. The deepest playoff run in three years. A repeat state qualifier.
An annual fundraiser. A weekly halftime performance. A concert. A play.
These are the final results that the outside world sees from a successful athletic season and an award-winning performing arts department. Building to those results though, as everyone knows, are a lot of people spending hours of planning, practicing, rehearsing, and doing anything else to help ensure success.
Behind all those people though are two men, the two in charge – Athletic Director Erik Schroeder and Performing Arts Department Chair Scott Posey.
Schroeder and Posey have had a busy three-and-a-half months, which had really ramped up in the past few weeks and culminates (at least for now) today – Thursday, November 16. The back-to-back state champion volleyball team will be celebrated at an assembly this afternoon. A few hours later, the fall play – The Legend of Sleepy Hollow – opens to kick off its four–performance, weekend run.
To get to this point though, it's been an absolute grind for both Schroeder, Posey, and their teams of colleagues.
Although many rehearsals took place well before, Posey's first big event was the Choral Concert held in the school's auditorium on Tuesday, October 10. Meanwhile, auditions and rehearsals for the play, as well as much of the planning for the 39th Annual Craft Fair (the Performing Arts Department's biggest fundraiser), were all ongoing.
The success of the Lake Catholic football team also meant the continuation of the marching band season. Posey designs all the marching and physical movements of the band, while Jim Slike ('07) preps all the music.
"We've had play rehearsals Sundays through Thursdays, with LC Singers and band practice alternating days during the week," Posey said. "And then we were at the football games on Fridays. So it's a pretty packed week."
The Craft Fair, held on Saturday, November 4, welcomed 150 vendors and almost 2,000 patrons, as the department raised a substantial amount of money for its programs.
That weekend alone was enough for someone to want to take a two-week vacation.
Typically, the Friday before the Craft Fair school is not in session. Because of a scheduling conflict, classes did take place. Set up could not begin until after school (240p).
"We set up as much as we could after school, but then had to stop to get to the football game," Posey said. "We were back here at 6a on Saturday to finish setting up and helping vendors unload. We finally finished tearing down around 5-530p, and we were back here the next day for play rehearsal. I would bet, when band was going on, I would be in the building for about 75 hours per week. We've been going hard for about 30 straight days now."
Not to be outdone, just a short distance down Senior Hall, the Athletic Department had been on quite a busy streak of its own. Since the start of the postseason for the fall sports, it has hosted two sectional final volleyball matches (one of its own and one with two other schools), a sectional final in boys soccer, a home football game at Mentor, a district semifinal boys soccer game at Mentor, and a first-round playoff football game at Eastlake North.
"It's great that our teams did so well this season, but it is a lot of juggling once you get to the postseason," Schroeder said. "During the regular season, you know the schedule. You know where everyone is going to be and what time the games or matches start."
All playoff competitions are run by the Ohio High School Athletic Association, so while dates are typically set ahead of time, many locations are not set until a few days before the next game or match.
"Once we get to neutral sites a lot of it is just coordinating transportation, administration coverage, and then hopefully medal distribution (for district, regional and state championships)," he said.
And there's a lot of miles on the car.
Saturday, October 28, started with the boys soccer district final in Strongsville at 11a and finished with the volleyball district final at Grand Valley High School at 7p. The next week, there was a regional semifinal for soccer in Akron and for volleyball in Barberton.
That same Saturday, November 4 as the Craft Fair, the soccer team played in a regional final at 2p in Twinsburg, while volleyball was in Barberton again playing for its regional title, also at 2p.
"The state would not change the time of one of them," Schroeder said. "It's disappointing for our students and community that they couldn't be at both, but the state said the schedules were already set and unable to be changed."
Also that morning, senior Kelly Ward was running in her second straight state cross-country meet.
Then started Schroeder's trip across Ohio, accompanied by Assistant Athletic Director Sam Colacarro – Wednesday, November 8 in Twinsburg for the boys soccer state semifinal; Thursday, November 9 in Dayton for the volleyball state semifinal; Friday, November 10 in Burton for the football regional semifinal; and finally back to Dayton on Saturday, November 11 for volleyball's state championship match.
"We figured we were in the car 17 hours through those four days," Schroeder said.
A lot of time was spent, behind the scenes, working to make these two departments some of the most successful in the area. After this weekend there is a small window for a break and to relax for Thanksgiving. But then it's back at it as the winter sports season ramps up and heads toward another postseason, and performing arts puts on its Christmas Concert, and holds auditions for the spring musical ahead of it hitting the stage March 7-10.
"When you're leaning forward, it doesn't allow you to stop, or you'll fall on your face," Posey said. "It forces you to get the job done, and makes you realize just how much you were capable of doing to start with."

Discover Lake Catholic
Discover yourself, your faith, your future, your purpose. Become a member of the Lake Catholic Family.