Robotics Club Bolts into Second Place at AWT Robobot Competition
April 30, 2023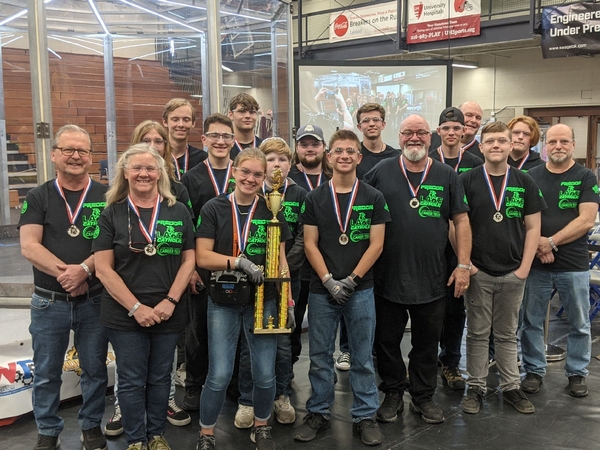 For the second year in a row, one of the Lake Catholic Robotics Club teams finished as runners-up at the AWT RoboBots Competition on Saturday, April 29 at Lakeland Community College.
Team Thunderstruck, with its bot Bolt, came out of the loser's bracket of the tournament and beat undefeated Ashtabula, and its bot War Machine, but then ultimately was beat in the winner-take-all final. Team Thunderstruck was comprised of Lauren Olenik, Jackson Aliff, Christopher Kelley, Jeremy Jones and Nick Hancock and Marty Johnson from Lakeshore Compact.
Thunderstruck and the other Lake Catholic team, Clean Sweep, both won their first round matches, but then had to face off against each other in the second round. Thunderstruck pulled off the victory, sending Clean Sweep, and its bot Mr. Clean, to the loser's bracket.
Thunderstruck lost it's next match in the winner's break semifinals to Madison's Athena. It fought back in the loser's bracket winning against Madison's second bot, Cataclysm, Auburn's Titanium Titan and then getting revenge and beating Madison's Athena to set the stage for the finals against Ashtabula.
Clean Sweep, with Jarred Smith, Nicholas Olenik, Tyler Duricky, Andrew Zalar and Ryan Dressler and Mason Sampson from Lakeshore Compact, put together a nice run after losing to its schoolmates in the second round. It beat Maplewood's Hope and Lakeside's Point Break before finally exiting the tournament with a loss to Auburn's Titanium Titan. Clean Sweep finished in fifth place.
RoboBots is a high school combat robotics competition that allows high schools to partner with industry mentors to build a 15lb combat robot.
The industry partner provides financial assistance and mentorship to the high school students through the six-seven month robotic build process.
This educational and workforce initiative was started by the AWT Foundation. The AWT Foundation promotes rewarding manufacturing careers for the long-term sustainability of manufacturing.
Discover Lake Catholic
Discover yourself, your faith, your future, your purpose. Become a member of the Lake Catholic Family.